Getting Started
To get the most out of CellRepo, we recommend creating an account
Sign up for the application by clicking the 'Join Now' button on the CellRepo homepage
Choose an avatar (optional), enter your name, email address and a secure password on the form and click the 'Register' button
Check your email inbox for an email from CellRepo to confirm your account. Click the link in the email to confirm your email address with CellRepo
Once you are confirmed, you can sign in using your email address and password
If you have registered, confirmed and signed in successfully, you should see the CellRepo homepage
Here you can set up the species that you base your project from
Click the 'Species' link in the navigation bar at the top of the screen
Select the databank type from the dropdown option
Add in the ID for the species from the external databank source. Click the (?) icon to see the images of how to get the ID and NAME for various external sources
Add in the NAME for the species from the external databank source. Click the (?) icon to see the images of how to get the ID and NAME for various external sources
Click on 'Create' to save your species
Now you'll see the species under 'My Species' list and it will be checked - this means it will appear in the species dropdown on the new project page and edit project page.
Click on the icon next to the species name to get the link out to your species on it's external page
You can also create a new species as part of creating a strain commit
Labs are a way to work with other users on CellRepo
You can define as many labs as you need, and they can consist of one or as many other users as you like
Create a name for your new lab
Enter the name of someone you would like to add to the lab in the text box on the lab page
Click 'Add' when you are ready to add that person to your lab
Continue this for as many lab members as you would like to add
You can remove lab members on this page, too, as well as delete the lab
When you delete a lab, any projects associated with that lab become private so that no one apart from you can access that project.
Projects are what contain all of your experiment data.
Each project represents an experiment on a cell line
Browse the different tabs to see different categories of projects
Click the 'Add' button to ceate a new projects
Give your project a name, and optionally add a description
Add a README to tell others how to use or read your project
Capture any data about ethical approval or grant information
Set the visibility level of your project
Set whether your project will be a strain or plasmid type
Optionally, you can choose to associate your project with a lab. This will NOT work for private projects!
Click the 'Create' button to save your project
Manage your new project using the Actions menu
Forking a project
Forking a project creates a copy of an existing project (belonging to you or someone else) for you to edit and extend
Publishing a project
Publishing a project makes the project public, creates a DOI and finalises all commits on that project Once published, the project can only be forked or deleted
Barcodes are part of commits and are generated to uniquely identify your commits on CellRepo
When creating a new commit, you will see the following
The top barcode is the unique digital barcode for a commit and is stored on every commit
If you are physically adding a barcode to your strain, check the 'DNA barcode' box to tell CellRepo that you are barcoding this commit
If you want to generate a new DNA barcode, click the 'Generate' button to get a new set of barcodes to use
If you do not want to physically barcode a commit, untick the 'DNA barcode' box. You will still have a digital ID for that commit
Branches contain commits and belong to projects, and represent different versions of work on the same parent project
On the project page, you can see a graph of the commits and branches tree

Create a new branch by going to a commit, clicking the 'Action' menu and clicking the 'New Branch' option. This will open up a modal with a field where you can enter the name for your new branch and click the button to create the new branch.
The new branch will only show up properly in the graph once you have added a commit to this branch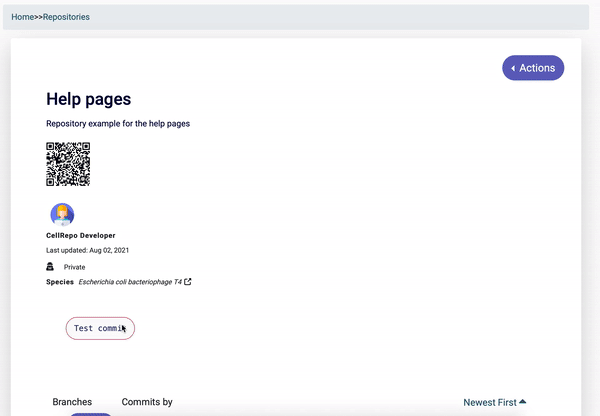 Switch branches in your project by clicking on the branch name in the branch dropdown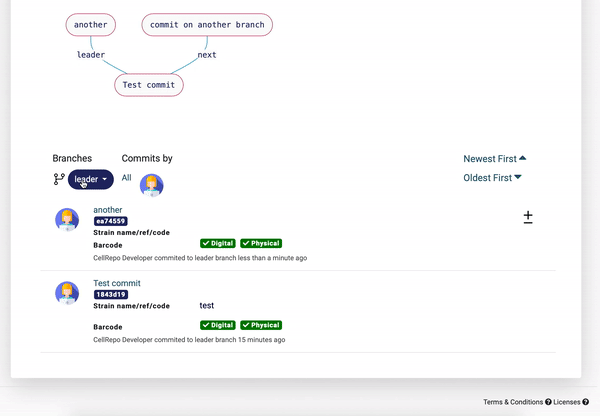 A commit adds the latest changes to the project. It contains information about the changes to the cell line, who did it, references, barcodes, documents etc. Commits are a representation of a cell line at an exact moment in history.
Select 'New Commit' from the Actions menu to add a commit to the project
Fill in the commit form with information about your change. The form will be different depending on whether you have selected 'Strain' or 'Plasmid' project type. Here, we show the 'Strain' option. Add any files you want to upload that supplement the commit. For strain commits, you can enter information about the strain, select or create a new species that will reference it, and set whether you want a to (physically) barcode this strain
You can view your commit once you have added and saved all of your data. The action menu will have the option for you to edit your commit
Click on a document to download that file
A commit, once saved, with remain in its 'Draft' state UNTIL you click 'Finalise Commit' at which point it can no longer be edited or deleted
Search within CellRepo for things you or other CellRepo users have created
At the moment, we suggest using full terms to search as the application does not currently support partial word or term search
Partial barcode match
The search functionality does support partial barcode matches when searching for full barcodes It has tolerance for around 6BP difference between the barcode in the system and the barcode being entered
Enter your term in the search bar on the navigation menu and click the button to search
Click on a search result to view the resource
You have access to your account settings should you wish to update your name, email address, password, avatar, notification settings, or delete your account
Click on your avatar in the top right corner of the navbar
Change any fields you wish and click the 'Update' button to save your changes
To delete your account, click the delete button